*Trigger Warning: SA, childhood Rape, and Incest
On May 2nd, 2022, a first draft opinion of the THOMAS E. DOBBS, STATE HEALTH OFFICER OF THE MISSISSIPPI DEPARTMENT OF HEALTH, ET AL, PETITIONERS v. JACKSON WOMEN'S HEALTH ORGANIZATION, FT AL.
It was leaked to Politico, written by chief justice Samuel Alito, who wrote, "We hold that Roe and Casey must be overruled," labeling this statment as the "Opinion of the Court…It is time to heed the Constitution and return the issue of abortion to the people's elected representatives."
This effectively overturned Roe v. Wade in one fell swoop. The article, written by Politico staff Josh Gerstein and Alexander Ward, warned of the dangerous precedent being reset:
"The immediate impact of the ruling as drafted in February would be to end a half-century guarantee of federal constitutional protection of abortion rights and allow each state to decide whether to restrict or ban abortion. It's unclear if there have been subsequent changes to the draft."
Before the decision was handed down, numerous activists and legal scholars bravely told their own stories of seeking an abortion. One of the most prominent was Michelle Goodwin, Chancellor's Professor at the University of California, Irvine School of Law, founding director of the Center for Biotechnology and Global Health Policy, and has author of Policing the Womb: Invisible Women and the Criminalization of Motherhood. On November 30, 2021, she wrote a guest essay in the New York Times titled "I Was Raped by My Father. An Abortion Saved My Life."

In the essay, she describes the brutal abuse she endured at the hands of her own father, who impregnated her multiple times. Without an abortion (which her father forced her to have it when she didn't even know she was pregnant), she would likely be dead? Her essay is chilling and disturbing, not only for her own experiences, but also for the statistics she drops on the prevalence of childhood rape and incest in America.
"No child should be pressured or expected to carry a pregnancy and give birth or to feel remorse, guilt, doubt or unease about an abortion under any circumstances, let alone rape or incest."
She continues.
"As Justice Harry Blackmun recognized in his majority opinion in Roe v. Wade in 1973, the barriers to a decent life are enormous when there is an unwanted pregnancy; for many, they are insurmountable.".
Goodwin writes of Texas Governor Greg Abbot:
"The governor imagines that he can 'eliminate all rapists from the streets of Texas,' but like many abusers, my father was respected in the community, a successful businessman who was adored by family, friends, and colleagues. I, on the other hand, felt alone and in fear."
Goodwin correctly concludes that these laws will "in effect forced girls to carry the burden of its desires, forcing many of them to risk their health — and even risk death — by remaining pregnant."
Goodwin likens the overturning of Roe that forces women and gender-diverse folk to give birth: "​​Like a military draft, the state has coercively conscripted rape and incest survivors to endure one more tremendous burden."
Goodwin, cited a joint report by the Human Rights Project for Girls, the Georgetown Law Center on Poverty and Inequality, and the Ms. Foundation for Women. Headlined "The Sexual Abuse to Prison Pipeline: The Girls' Story." In the report has this statistic.
"More than 80 percent of the girls in juvenile justice systems in some states are victims of sexual or physical violence. For so many of these girls, their pipelines are not from youth to college and graduate school but to juvenile detention and possibly prison. Their lives are treated as expendable and not worth saving."
Keeping in mind the words of Justice Blackmun in 1986 on Roe:
"few decisions are more personal and intimate, more properly private or more basic to individual dignity and autonomy" than the decision to terminate a pregnancy."
As most of the world now knows, Friday, June 24th marked the end of a nearly 51-year safeguard on abortion rights across the country. Roe was overturned and with it, confidence in our very democracy. Countless legal experts and reproductive rights activists have been sounding the alarm for many years warning of the overturning of Roe if we didn't demand that abortion rights be codified into federal law. Sadly their predictions came true.
Two days after the handing down of the SCOTUS decision, Harvard Kennedy School of law faculty released an article by Nora Delaney titled "Roe v. Wade has been overturned. What does that mean for America?" where eight faculty members weighed in on "what the U.S. Supreme Court ruling ending constitutional protection for abortion means for civil rights, American democracy, law, and policy."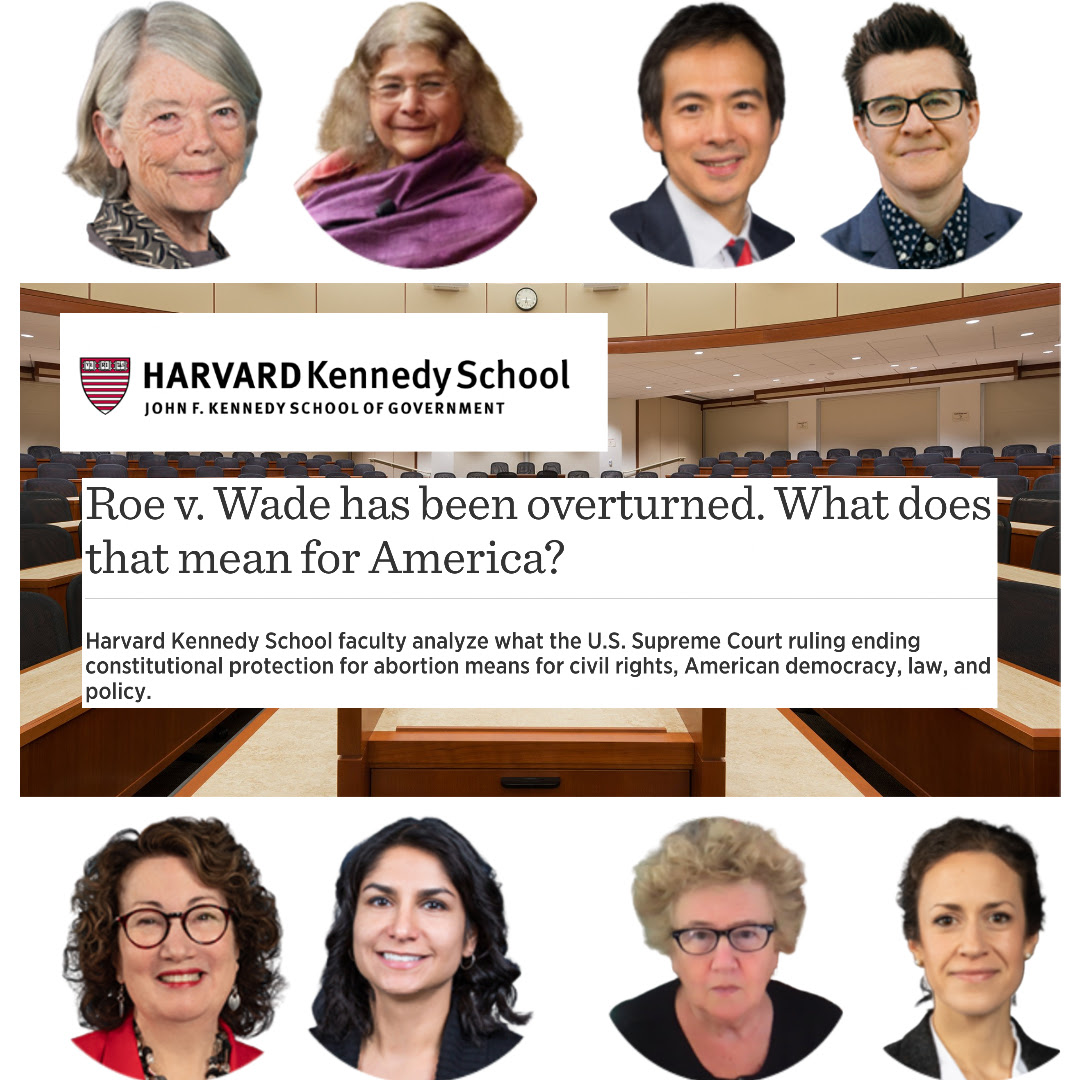 In 'The role of activism in protecting civil rights Erica Chenoweth (the Frank Stanton Professor of the First Amendment at Harvard University's Kennedy School of Law), Chenoweth puts forth several strategies for organizing peacefully as a form of resistance that involves what she calls "sustained activism" for reproductive justice that has already shown in states like Massachusetts  "to enshrine abortion access into law". Another faculty member, Archon Fung (The Winthrop Laflin McCormack Professor of Citizenship and Self-Government and faculty director of the Ash Center for Democratic Governance and Innovation at Harvard University's Kennedy School of Law) pointed out that other than Justice Clarence Thomas, who was appointed by George H. W. Bush, the other fix justices supporting the Dobbs judgment were appointed by a president who lost the popular vote, aka the issue of the electoral college minority rule. According to a Gallup poll, Fung writes
"By September 2021, only 40% of Americans said that they approved of the Supreme Court."
This precisely highlights the key issue surrounding the ruling of Dobbs, namely the court's far-flung attempt to define privacy and decide on what level, local, state, or federal abortion access should be decided. In her contribution to the Harvard Kennedy piece, the section titled 'The implications of a conservative U.S. Supreme Court' by Maya Sen (professor of public policy at Harvard University's Kennedy School of Law), points out that:
"The original Roe v. Wade decision was based on the court's finding that access to abortion was a "fundamental" right, stemming from the notion of individual privacy as the foundation of individual liberty."
She concludes on that point that:
"Though there was no right to "privacy" mentioned in the Constitution, the court found that many other sections of the Bill of Rights created a "penumbra" of privacy embedded in the right to "liberty." This foundational privacy right was the basis for several extremely important court decisions recognizing individual rights"
It is important to mention Michele Goodwin again, for her groundbreaking articles 'No, Justice Alito, Reproductive Justice Is in the Constitution' and 'The New Jane Crow' (for which this piece's title is inspired and dedicated) she dispels the numerous failings of the Dobbs decision with horrifying statistics about whom will suffer most post-Roe. Goodwin writes:
"The overturning of Roe v. Wade reveals the Supreme Court's neglectful reading of the amendments that abolished slavery and guaranteed all people equal protection under the law. It means the erasure of Black women from the Constitution."
With ever more brutal clarity, Goodwin describes how:
"Mandated, forced or compulsory pregnancy contravene enumerated rights in the Constitution, namely the 13th Amendment's prohibition against involuntary servitude and protection of bodily autonomy, as well as the 14th Amendment's defense of privacy and freedom"
It is truly incredible and deeply disconcerting that the atrocities of the past never fully fade, as Goodwin demonstrates how black women are the canary in the coal mine, who are the first to experience such state-sanctioned violence, but never the last. Black women and girls are disproportionately impacted by a lack of access to reproductive health care and are statistically more likely to die from carrying a pregnancy to term. Citing a CDC Morbidity and Mortality Weekly Report (MMWR) on Racial/Ethnic Disparities in pregnancy-related deaths in the united states from 2007-2016, Goodwin wrote:
"Black women are over three times as likely to die by carrying a pregnancy to term than white women. In Mississippi, a Black woman is 118 times as likely to die by carrying a pregnancy to term than by having an abortion."
Don't just take the CDC's research, for Goodwin also cites Justice Breyer in 2016 where he noted that in Whole Woman's Health v. Hellerstedt, "women are 14 times more likely to die by carrying a pregnancy to term than by having an abortion. The United States bears the chilling distinction of being the most dangerous place in the industrialized world to give birth, ranking 55th overall in the world."
Even before the Dobbs decision, violence against women had been increasingly on the rise following the outbreak of the COVID-19 pandemic and subsequent lockdown mandates, locking in many vulnerable women across the globe to more gender-based violence. On June 1st, The Guardian teamed up with V (Formerly Eve Ensler)-who as described on the Guardian website:
"Is a playwright and activist and the founder of V-Day, a global movement to end violence against women and girls" released 'Disaster patriarchy: how the pandemic has unleashed a war on women' where she expands upon Goodwins chilling figures. She references numerous studies pointing to rates of job loss and intimate partner violence as inextricably tied to quarantine from the pandemic, nearly 5 million lost jobs from the start of the pandemic and November 2020. She writes:

'When women are put under greater financial pressure, their rights rapidly erode.'"
"Covid has revealed the fact that we live with two incompatible ideas when it comes to women. The first is that women are essential to every aspect of life and our survival as a species. The second is that women can easily be violated, sacrificed, and erased. This is the duality that patriarchy has slashed into the fabric of existence and that Covid has laid bare. If we are to continue as a species, this contradiction needs to be healed and made whole."

All this to say, we need to put the lives and rights of women front and center as the next few decades will place women and every baby-making individual in fear of their own bodily autonomy or rather lack thereof. No longer can we stand idly by while SCOTUS continues to erode decades worth of progress and liberal reform, Like that of the Jane Collective- a pre-Roe underground illegal Chicago abortion service run by "Janes" to serve and protect any and all who seek care, even at the risk of real prison time. The Jane collective risked decades behind bars for aiding and abetting illegal abortions but ultimately once the passage of Roe in 1973, they went free and continue to advocate and protect reproductive rights to this day.
For more information about how you or someone in need of access to reproductive care, please visit the following websites for access to abortion pills, legal support, and  or how to find the closest clinic
     1.   AidAccess
For those not in the US, visit:
Abil Hyusein Gole works as a part-time volunteer for The Oddball Foundation, Inc and is a Certified Peer Support Specialist. Abil is a full-time Student finishing his Associate of Arts degree with a concentration in Foreign Language (German and Spanish) at Bunker Hill Community College. Abil will transfer to Boston University in Fall 2022 majoring in Linguistics and Turkish. Abil formerly worked as a CPS at Advocates Inc in Framingham MA, and Bay Cove Human Services in Boston, Massachusetts. Abil was a 2021 Andrew Mellon Fellow at Johns Hopkins University as an undergraduate researcher in The Humanities Collaboratory, where Abil did research into Bulgaria's forced expulsion of Ethnic Turks in 1989 culminating with a presentation titled "Welcome Home, and Don't Come Back: Collective Transnational Impacts on Ethnic Turks Decades After 'The Big Excursion'.
To volunteer with Oddball Foundation, please contact team@Oddballfoundation.org